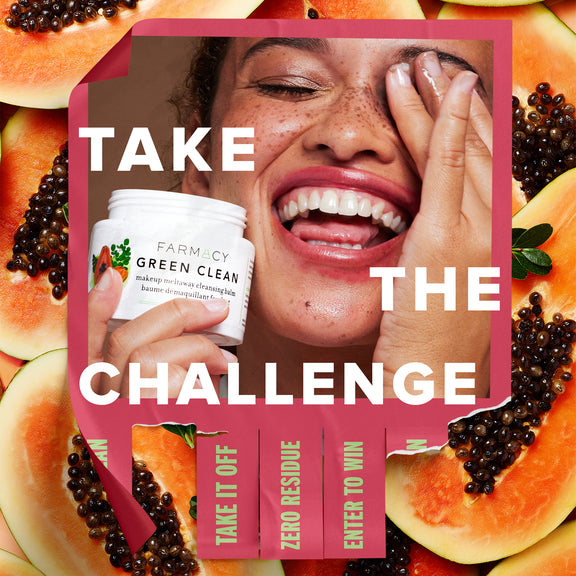 HALLOWEEN ON US!
How To Enter
1) follow us on TikTok + Instagram @farmacybeauty
2) post a video of you melting away your makeup with Green Clean

The Prize
$3500 for you and a friend to get glam, costumes, treats, decor, spooky drinks, and a ride to your Halloween plans
OR
a chance to win our Green Clean Vault - All limited-edition flavors from Farmacy's past.
DISCOVER NOW
Why We Love It
Melts the day away. Sunflower and ginger root oils effortlessly remove even the boldest eye makeup and long-wear foundation effortlessly—without stripping, drying or leaving any residue.
Gently exfoliates. Papaya extract helps to retexture skin and reveal a youthful glow. Never harsh, it's safe for all skin types, including dry and delicate skin.
Smells like vacation! A refreshing blend of lime, bergamot and orange essential oils is exhilarating and revitalizing.
TSA-approved. This unique cleansing balm stays a sorbet-like solid in the jar until it makes contact with skin and transforms to a silky oil (then a luxe, milky lather!). Both sizes can travel in your carry-on, no problem.
Key Ingredients
Moringa Seed + Water
Purify and refresh skin by removing impurities caused by pollution
Papaya Enzyme
Gently exfoliates and cleans pores of dirt and impurities, revealing a fresh looking complexion
Sunflower Seed Oils
Melt even stubborn makeup (including long-wear) without stripping or drying skin.
Moringa Seed + Water
Papaya Enzyme
Sunflower Seed Oils