Blog
The latest news, tips and more, batched straight from the Farmacy team.
FREE EASY RETURNS
FREE SAMPLES WITH EVERY ORDER
FREE SHIPPING WITH ORDERS $40+
10 Ways to Show Your Eyes Some Love: Your New Eye Care Routine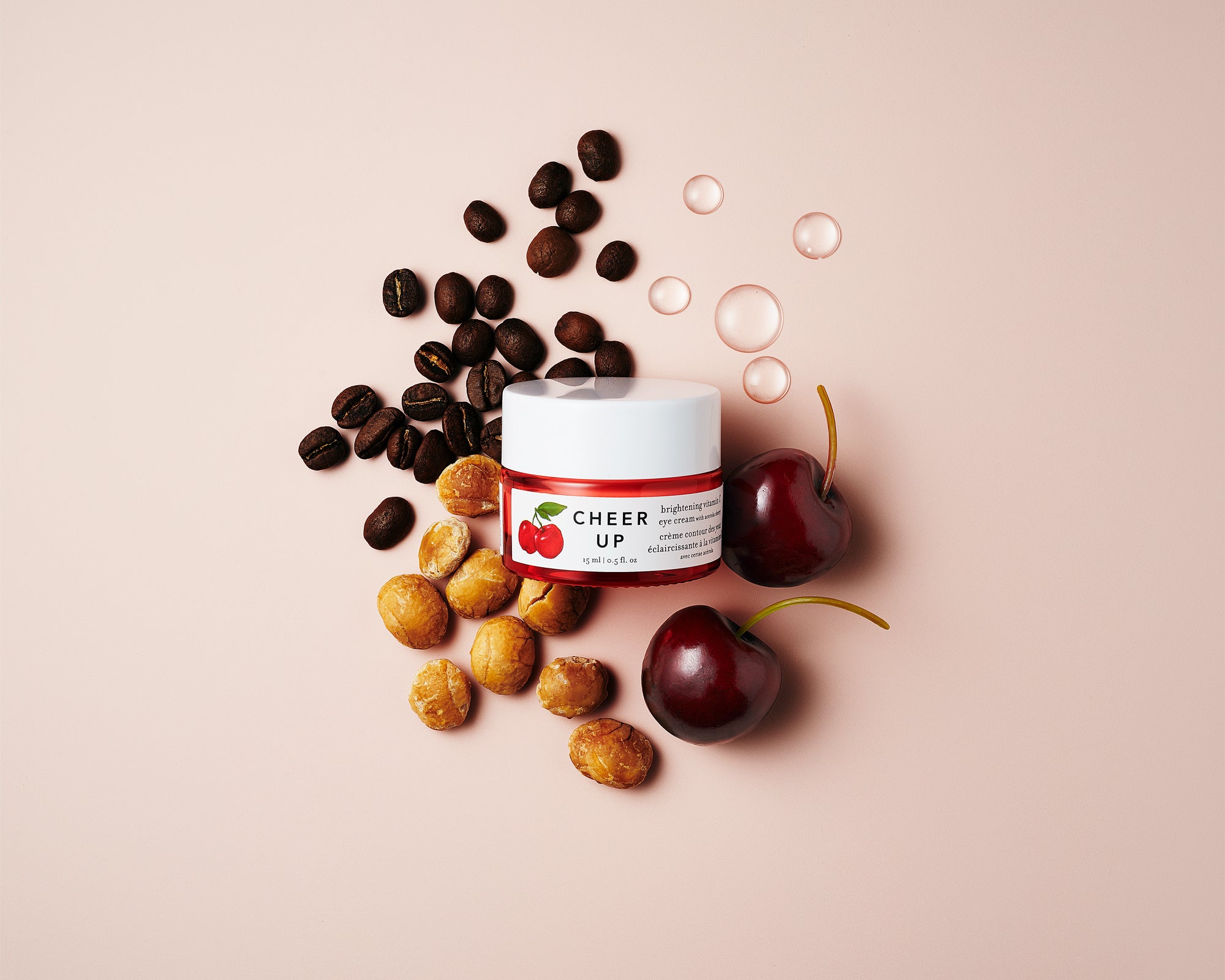 The eyes are the window to the soul. So why wouldn't you want yours to look and feel their best? Avoiding overexposure to sunlight, focusing on products with naturally-derived ingredients and getting plenty of rest is just the beginning.
If you really want to show your eyes some love, here are 10 excellent ways you can do so.
1. Use an Eye Cream
The delicate tissue around your eyes can be one of the first places on the face to show fine lines and wrinkles. It's important to treat this area delicately and restore any elasticity that is lost with age and exposure to the elements.
Avoid products with harsh chemicals that cause irritation or toxic side effects. When choosing an eye cream to add into your eye care routine, consider one with potent natural antioxidants and phytochemicals such as Farmacy's Wake Up Honey Eye cream that can help protect and repair the skin around the eyes.
2. Eat to Strengthen Eyesight
What you eat can have a significant impact on your eyesight. Nutrients such as omega-3 fatty acids, lutein, vitamins C and E and zinc can have positive effects on your overall health and fight off macular degeneration, cataracts and other effects of aging.
Add more leafy greens, Omega-3 rich wild-caught fish, citrus fruits and nuts to your daily diet. Not only will these foods help your eyesight, but they'll also increase energy, lift your mood and reduce your risk of developing many diseases.
3. Choose Makeup Techniques to Enhance Your Natural Beauty 
Many women love to play up their eyes with heavy liner, dark shadow and fake lashes. While this might be a fun look for a night out, the best way to show off your eyes on an everyday basis is by letting your natural beauty shine through.
Consider leaving them bare, except for a sweep of neutral beige on the lid and a quick swipe of dark brown or black mascara that provides a natural-looking enhancement. To make sure mascara doesn't look clumpy or overdone, remove excess from the wand with a tissue before applying.
4. Step Away from the Screen
Eye strain from computers, smartphones and televisions can wreak havoc on your eyes. If you work on a computer all day, take frequent breaks to walk around the office or run errands to give your eyes a short rest. When you get home, opt for reading a book, cooking dinner or listening to music rather than binge-watching your favorite show or catching up with friends on Facebook.
5. Choose Frames that Flatter
Whether you need glasses to read, see far away or just to shade your eyes from the sun, the shape you choose matters. The last thing you want is to hide your gorgeous eyes behind clunky frames.
Some basic rules of thumb are to wear frames that match your eye color and to choose frame shapes that contrast with your face shape. For example, if you have hazel eyes and a round face, you might opt for square green frames.
6. Get Regular Check-Ups
Even if you don't have problems reading or seeing faraway objects, you still need to visit your eye doctor regularly. He or she can check your eye health and make sure you are not at risk for problems, such as macular degeneration or cataracts.
In general, those under 65 should get their eyes checked every 2-5 years. Once you hit 65, increase that to a yearly checkup.
7. Keep Them Hydrated
Eyes can easily dry out, depending on the weather, how much strain you put on them and other health issues. Keep some natural tears nearby and drop a few into your eyes when they start feeling scratchy or tired. Avoid drops with synthetic ingredients, as they can be more irritating than soothing.
8. Dress to Enhance Your Eye Color
Your clothing and accessory choices can greatly enhance your natural eye color. Choose classic neutrals or lighter greens if you have blue eyes, coral and pale yellows for green eyes and opt for orange or burgundy if your eyes are hazel. Brown-eyed girls should gravitate toward soft pinks, rich blues and gold.
These colors will really make your eyes pop!
9. Shape Your Brows
Over-plucking brows can age you, while leaving brows bushy and unkempt can steer attention away from your beautiful eyes. Pluck only enough to give your brows a natural shape that frames the eyes and shows them off. If you're not an expert at plucking your eyebrows or aren't sure what shape you want to achieve, consider visiting a salon that specializes in eyebrow waxing or threading.
10. Apply Sweet Potato Eye Pads
Forget the cucumbers, add this to your eye care routine! If you want to de-puff eyes, lay freshly cut sweet potatoes on them for 10 minutes in the morning. The anti-inflammatory properties in the potatoes will reduce dark circles and puffiness.
Your eyes are one of your best assets and should always be treated with care. Keep them looking and feeling great with your new and improved eye care routine.
The post 10 Ways to Show Your Eyes Some Love appeared first on Farmacy Beauty.
#FarmacyBeauty
Shop our instagram feed @farmacybeauty