Blog
The latest news, tips and more, batched straight from the Farmacy team.
FREE EASY RETURNS
FREE SAMPLES WITH EVERY ORDER
FREE SHIPPING WITH ORDERS $40+
VIRTUAL SKINCARE CONSULTATIONS
Want
personalized

skincare advice?

Book a complimentary 20-minute video session, and one of our experts will curate your customized, clean skincare routine.

BOOK NOW
Best of the Best: Our Favorite Eco-Friendly Product Launches of 2017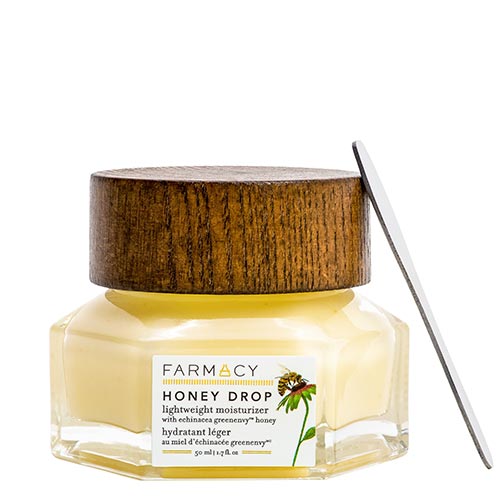 If you're like us here at Farmacy, you're probably constantly on the lookout for new ways to make your life a bit more sustainable. This year, companies around the world launched new, Earth-friendly products that have shaken up all sorts of industries. From cutting-edge, sustainable takes on denim, building materials and sneakers to brand-new inventions that help deter waste, consumption and deforestation, these incredible new products take us one step closer to building a better world. We're always on the lookout for the hottest new sustainable products, and here are a few of our favorite earth friendly products so far this year.
1. Beija Flor Eco-Friendly Jeans — Greenville, S.C.-based Beija Flor is on a mission to prove that even apparel can be made sustainably. To further their mission, they've developed the Natural Flex Jeans: a pair of super-sustainable and stylish skinny jeans made from natural texture fabrics. According to the brand, "Natural texture fabrics do not require dying or washing processes, so they save water and reduce chemical residues, making fashion more sustainable and reducing our carbon footprint." These jeans are made from a blend of eco-friendly cotton, polyester and Elastane, and come in a variety of fresh, trendy colors.
2. Made of Bamboo Toy Cars — The eco-focused designers at Made of Bamboo have come up with an alternative to those landfill-clogging toy cars that were a staple of previous generations. Their eco-friendly bamboo cars are made of one of the Earth's most sustainable, renewable woods: bamboo. This material is a prime choice for modern, environmentally friendly design because it's easy replaced. In fact, a single bamboo tree can grow up to 39 inches in a day, making it an excellent alternative to wood species that contribute to deforestation. These bamboo cars aren't just eco-friendly and earth friendly, though. They're also beautifully designed and hand-crafted for long-term durability and performance.
3. Norton Point Current Sunglasses — One of the biggest challenges contributing to the detriment of the Earth is the consumer waste flushed into the ocean. According to Martha's Vineyard based Norton Point, by 2050, the amount of plastic in the ocean will outweigh fish. To combat this problem, the savvy entrepreneurs developed a line of socially-conscious eyewear, the Norton Point Current Sunglasses, which are made of recycled ocean plastic. Not only are they eco-friendly, but Norton Point donates 5 percent of its net profits to global ocean cleanup. These sustainable shades are pretty good-looking, too, with a wide range of frame shapes available to complement your face shape and sense of style.
4. Farmacy Honey Drop — Our very own Honey Drop Lightweight Moisturizer is fortified with naturally-derived ingredients that are good for the Earth and your skin. Featuring a bouquet of skin superfoods — honey, royal jelly, propolis, cupuaçu butter and others — this eco-friendly facial moisturizer will make you feel good in more ways than one. Not only does Farmacy partner with local beekeepers and farmers to cultivate these naturally-derived ingredients, but we also work to give back to the workers who protect and preserve the Earth's natural resources. For example, we'll donate $1 for every honey product sold through December 2017 to the City Growers for the development of their Bee Education program. This program helps spread the buzz about bees, ensuring that one of our most valuable creatures continues to help the environment thrive.
5. DND Mosquito Repellent — Finding an eco-friendly bug repellent has long been an issue for Earth-conscious shoppers, but now DND's new Spira Coils claim to be the first-ever 99.5 percent green and eco-friendly bug-zappers. The Bangalore, India-based company makes the bug repellent using eco-friendly, natural coils and a patented, Japanese technology to create a 360-degree shield against bugs. The coils emit light that detracts bugs from entering the area. DND's makers create eco-friendly products in order to provide an affordable, natural solution to preventing malaria and other mosquito-borne illnesses in India's poor regions.
6. Halo Coffee Capsules — Everybody knows that the standard plastic single-serve coffee pods are anything but eco-friendly, taking up to 200 years to biodegrade in the world's landfills. That's why Grey London's former Chief Creative Officer Nils Leonard launched Halo, a 100 percent biodegradable coffee capsule that's compatible with Nespresso single-serve coffee machines. These eco-friendly coffee pods are made with a blend of compostable natural fibers, which are biodegradable so they don't wind up in landfills, and are also designed to help preserve the coffee flavors inside the capsule until it's ready to be brewed. You can buy Halo Coffee Capsules in packs of 10 or sign up for their monthly subscription box so that you always have eco-friendly single-serve coffee on hand.
7. nCamp Wood-Burning Stove — When you go camping, the key is being in-sync with the Earth, and that means using its readily available resources to keep you comfortable. With nCamp's compact new wood-burning camp stove, you can ditch the canned fuel and instead use twigs and other combustible materials found in the forest to keep you warm and to provide a place to cook while you're away from home. It's also designed to help eliminate packaging and waste that comes from using propane and other canned fuel sources. Unlike other wood-burning stoves, nCamp's stove is collapsible and lightweight, so it's perfect for long-distance hikers and backpackers. Not only is it earth friendly, it takes only three minutes to boil a full cup of water!
8. Switch Fresh Deodorant — Launched earlier this year by Antoine Wade — the cousin of NBA star Dwayne Wade — Switch Fresh is a unique, refillable deodorant container that aims to curb waste associated with personal care packaging. Wade funded the project with an IndieGoGo campaign, where he described it as "the world's first sustainable, personalized, unisex deodorant that reduces waste by 96 percent." It features a sleek plastic tube with a replaceable cartridge that can be refilled with any one of the company's fresh-smelling antiperspirants. You can pre-order one now for $10 or use the brand's subscription model to automatically get deodorant refills sent to your door before you run out.
9. Allbirds Sustainable Sneakers — Billed as "the world's most comfortable shoes," Kickstarter-funded Allbirds is seriously shaking up the sneaker industry. Founded by former pro New Zealand soccer player Tim Brown and engineer Joey Zwillinger, Allbirds raised over $7 million in capital since it launched in March! What makes Allbirds shoes eco-friendly, you ask? It all comes down to the manufacturing process. Each shoe is produced from merino wool from New Zealand, which the brand claims helps to reduce its carbon footprint by as much as 60 percent when compared to standard synthetic shoes. Additionally, Allbirds shoes are sustainably packaged and use minimal materials to ensure minimal waste. What's more, these shoes are stylish and gaining a loyal following, with trendsetters like Mindy Kaling and Julianne Hough hopping on the Allbirds bandwagon. You can get a pair of Allbirds for $95.
10. Rumi X Yoga Wear — Hong Kong-based Rumi X gets the award for most creative eco-friendly product of 2017 in our book! Founded by American-born, China-based entrepreneur Melissa Chu, Rumi X makes yoga gear using discarded coffee grounds and crab shells. According to the Rumi X website, "Our vision is to pioneer innovation in creating and selling every day, modern products made from environmentally conscious materials." Not only are Rumi X pieces made from out-of-the-box, recycled food waste, but they're also made from recycled plastic bottles and other resourceful materials. You may think that these fabrics would be uncomfortable, but that's not so: "The result is super soft fabrics with moisture-wicking properties and ultra-stretch," says Rumi X.
11. Toast Ale Beer — Microbreweries are all the rage, but small-batch beer-makers have long struggled to find ways to make their ales more eco-friendly. But London-based eco-friendly beer brand Toast Ale has discovered a new way to give beer-brewing an extra edge by transforming food waste into a tasty, drinkable brew. The company uses leftover bread to create beer, and has saved about 7,000 pounds of bread from the landfill since its launch. Not only that, but Toast Ale donates 100 percent of their profits to Feedback Global, a nonprofit organization that strives to end worldwide food waste. While Toast Ale was founded in 2015, it began to launch its products in the U.S. and South Africa this year, so you may soon be able to buy these tasty, eco-friendly ales at your local supermarket.
12. House of Marley Stir It Up Turntable — Lofty? Yes. Impossible? No way. Michigan-based House of Marley — purveyor of socially conscious headphones and speakers — has done the unthinkable this year when they created a totally eco-friendly turntable with all the bells and whistles. With vinyl records majorly on the rise and consumers looking for green alternatives to everything, it came as no surprise when House of Marley expanded its lineup of Earth-conscious products to include the Stir It Up Turntable. What makes this record player eco-friendly is its construction. Using recyclable aluminum, bamboo, recycled rubber, upcycled hemp and plastic bottles, this turntable promises to provide audiophile-worthy sound quality with a low environmental impact. House of Marley released the Stir It Up turntable on Earth Day (April 22) of this year. You can get your very own for $230.
13. Saathi Sanitary Pads — With the rise of menstrual cups and period panties, the women's health industry has long been working to revolutionize the monthly cycle. This year, three graduates from MIT, Harvard and Nirma pushed that initiative a step further when they created Saathi, a line of 100 percent biodegradable sanitary pads. The women wanted to build plant-based pads for women in India, and based the company in Gujarat, where it uses locally sourced materials. Saathi pads are made from perfume-free, unbleached banana fiber. Not only is this material totally biodegradable — so it fully degrades in just six months and won't take up tons of space in the world's landfills — but it's also better for people with sensitive skin and may help reduce itching and rashes. Saathi also has a socially-conscious approach. When you buy Saathi pads, you give the gift of biodegradable pads to women in rural communities.
14. Freshback Smart-Laundry — It may seem weird, but Canadian company Freshback's new Smart-Laundry detergent promises to provide a whole year's worth of clean clothes with a single wash. That means reduced water consumption, reduced waste and reduced packaging. The company's developers claim that Smart-Laundry will keep clothes germ- and odor-free for 365 days or 25 washes. You can use Freshback Smart-Laundry just like you would your normal detergent. Simply toss in your extra-smelly gym clothes in the washing machine and watch the odors melt away. According to the company's founder, a professional cyclist, the detergent features cutting-edge, patented technologies to eliminate even the most stubborn clothing smells. If it seems too good to be true, Freshback backs each product with a 100 percent guarantee, so you can try it out yourself.
15. SEBI Eco-Friendly Bricks — Nepal-based Super Eco Bricks Innovations (SEBI) has set out to produce the world's most eco-friendly building material. Using a cutting-edge Japanese manufacturing technique, SEBI bricks can be produced without the need for water or plaster. Not only that, but these bricks can help reduce the high carbon dioxide emissions that are problematic in commercial and residential building applications. All SEBI bricks are made without the need for fossil fuels, farmland, child labor or animal cruelty. These sustainable bricks aren't just more Earth-friendly than standard clay or concrete bricks, but they're also stronger and longer-lasting. According to the company's founder, SEBI bricks are less prone to breaking and perform better in extreme temperatures. In fact, this type of brick has been used in landslide-prone Japanese homes for years. They're also water-resistant and provide sound dampening qualities and insulation.
The post Best of the Best: Our Favorite Eco-Friendly Product Launches of 2017 appeared first on Farmacy Beauty.
#FarmacyBeauty
Shop our instagram feed @farmacybeauty